Chef Profiles - 3/6/2019
James Syhabout, Commis, Hawker Fare, The Dock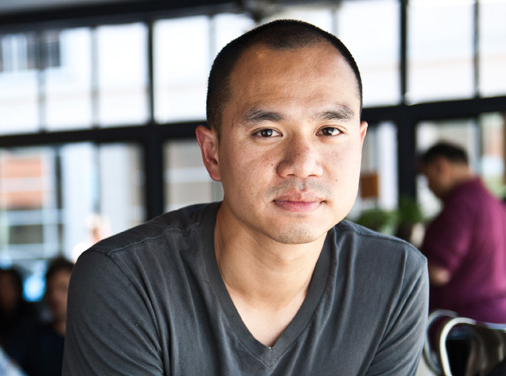 In his mother's Thai kitchen in the East Bay James Syhabout got a feel for good food and a hard work ethic. But it was his insatiable creative drive that took him to greater heights. He took advantage of every opportunity laid in front of him. He was sous at San Francisco's Betelnut, chef de cuisine at Los Gatos' Manresa, he staged at the wildly creative Fat Duck in London and worked for 6 months at Spain's boundary-pushing, progressive El Bulli. Now, James has multiple restaurant ventures and he has brought two Michelin stars to his East Bay roots at his Oakland restaurant, Commis.
What was your food heritage growing up?
I'm a restaurant kid; I was born in Thailand close to the Laos border but grew up in my folk's East Bay restaurant in Concord called Wat Phou.
What drew you to the industry and why become a Chef?
I was always curious and an eater! Even at a young age I would eat everything, from all different cultures. I used to work with my mom peeling garlic and picking stems off of chilies. I would drive her crazy with my questions and such! But that experience, as early as ten years of age, piqued my curiosity in the business and I saw it as an outlet for creative drive, so I was hooked. Part of my thing is I can't sit still, I always have to be moving, and thinking, and doing and so the kitchen was perfect for this. By high school I knew I was going to be a chef - end of story.
In 1997 I graduated high school and directly enrolled at the California Culinary Academy in San Francisco where I graduated in 1999. I really got into understanding the science behind cooking. Why does a mayonnaise come together in an emulsion? How does this work, and why does that work? I just ate up things like that.

After school I started working at a Pan Asian restaurant in Berkeley under Alexander Ong called Xanadu. Chef Ong worked at Stars and The Ritz Carlton and so he ran a brigade system and this was new to me coming from a mom n' pop background. I liked the team effort. The only hierarchy in mom's kitchen was mom, right? Now you're working as a team answering to sous chefs and there's a chain of command. I was there for two years until it closed and Alexander opened Betelnut and I followed him there as a sous chef. It was really high volume and I spent most of my time supervising, but it was good because I learned the nuts and bolts of the business, what makes a restaurant function, managing people, making the numbers work, and all aspects of making a business work. Regardless of the type of restaurant the principles were the same.

I put in a year, but I was 22 and I needed to explore more possibilities. I had done Asian, I grew up with Asian! What I really felt I needed to get under my belt was French cookery, as it had always fascinated me. As a kid I would watch stuff like the Great Chefs of Europe, Jacques Pepin, and the Troigros brothers and now I wanted to get into doing this in a professional kitchen. I was getting bored and rather uncomfortable. Bruce Hill set me up with a stage once a week with Ron Siegel at the Ritz. Bruce and Ron used to work together. This was the real deal, all the classical technique in real time, not like at school. You'd better get your brunoise and quenelle perfectly on point or you get yelled at, right? I loved it but after two months there was no opening for me there.

Bruce told me that if I really wanted to learn some stuff there was a place in the South Bay called Sent Sovi, that was run by this chef who was focusing on Catalan cuisine and his name was David Kinch. He just opened this other place called Manresa that was doing things no one was doing. I thought, South Bay, man that's a long drive, I dunno. I had no clue who David Kinch was but I decided to give it a try by doing a one day stage there and see. I walk in and see an island station, French cook tops, stainless everything just pristine and wow. So my first day was the first day I used a tammis, and a French top. I loved the structure and got hired in 2002 as chef de partie in garde manger.
Chef Kinch was just the opposite of the stereotype of the tyrannical chef. He was firm but kind and you learned a lot. I've made a lot of mistakes in my career, cooked some things that weren't very good but I think those things are necessary as you learn and grow from them. It's a process. I worked my way up to sous chef and then in 2005 I took a year off. I hit a road block, and you might think how could I hit a road block having achieved what I had to this point as well as working for David Kinch? I reflected on what got Chef Kinch to where he was and I realized it was Europe. He'd been to Europe, and worked there, I had not. The deep influences of his kitchen came from places like Arpège because he had experienced them first hand, and I had not. I personally felt I needed to do so to move forward. People change, especially in relation to exposure, and food is a reflection of that exposure. I saw the depth that came from David's exposure and I wanted to experience similar things.

A three month trip turned into an 11 month trip. I had stages set up at the Fat Duck, and at Mugaritz. I applied but did not hear back from El Bulli. Well, I had a blast, especially in Spain! Barcelona was fantastic and even with the language barrier, the camaraderie that came with the common goals of the kitchen brought us together. I then planned to go to France and just hang out for a while and soak it in. Well after exploring and eating at places like Pierre Hermé, and Pierre Gagnaire I had finally started to understand the vision that David Kinch had. I had burned a hole in my credit card and was ready to come home. Then out of the blue I get contacted by El Bulli! What do I do? I was broke, I had a ticket to come home, but when would I ever get an opportunity like this one again? I took it! I was there for the season that lasted 6 months from May to September. El Bulli pushed the boundaries, it made me think about food in alternative ways. When conventional chefs ask "why?", Adria asks, "why not?". It was amazing, a 30 course tasting menu, so you are making hundreds of plates of food every night. Ferran brings in chefs and cooks that qualify from all over the world to stage, and he has them prepare something from where they came from. Brilliant! He was soaking up what others brought to the table and they were taking away what he brought to the table. It was an incredible symbiotic relationship and think tank!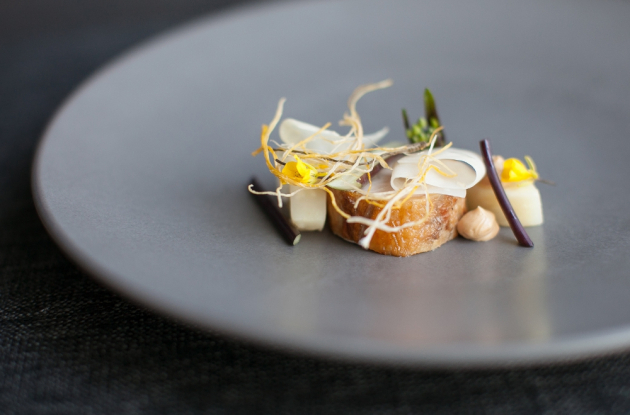 I came back in 2005 and opened COI with Daniel Patterson. I was there for 6 months then I was made an offer to be the chef of Plumpjack Café on Filmore in San Francisco so I accepted it and took on the challenge. I was 27 and we were getting excellent ratings from the Chronicle, but after being at El Bulli with a really progressive free thinking environment, now I was in a more dictated corporate structure and not sure if this is really where I wanted to be. I also wanted to do the food that I wanted to do, but did not have the labor force to do it, so I did much of it by myself. I was often working 7 days a week for months. Well let's just say for the long term it was not a good fit.

One day I get a phone call from David Kinch and he told me he'd love to have me back at Manresa. Jeremy Fox was CDC and was moving on to open his own venture and there was an opening for me to fill that spot. By now Manresa had Love Apple Farm and all kinds of cool things were being grown for the restaurant, and this was really something that excited me. I felt I wanted to be a part of this. So I went back to Manresa as CDC and was there until New Year's Eve of 2008/2009, and that was when I left to open my own place.

David Kinch had made his mark in, a then unknown, Los Gatos and it became a destination. I wanted to come back home to the East Bay and make an impact in an area where no one was doing progressive dining. I opened Commis in Oakland with a few saute' pans, two cooks, and a couple thousand dollars in the bank. At first people thought I had lost it, opening a place like this in Oakland, but hey this was home. Now skepticism has all but vanished. We opened in June 2009 and by October that year we received a Michelin star (two awarded in 2015). This came after some critics had given us mixed reviews, and owning a business you panic a bit. The first Michelin star gave me confidence that we could really do this and do it well. We went from a simple menu to having 7 courses and snacks, with an open kitchen at that! I feel that I need to keep things fresh and moving to keep my cooks challenged and excited, I need that as well. I like the art of fine dining but I don't like stodginess. I like people to have fun but experience food that is elevated.
I have opened a couple other restaurants but the first venture outside of Commis came when my mom was looking to get out of the business so I took that spot over and opened Hawker Fare, which is a tribute to my mom and Thai street food. Food I grew up with, it's who I am. We opened another Hawker Fare in San Francisco. And last year we opened The Dock here in Oakland. So we've been really busy.

I always like to keep myself challenged. Next project is to work on a book. I also am married now and have two kids. Like I said, I don't ever want to be bored!
How would you define your style?
Contemporary and personal.
What do you like most/least about being the boss?
Most: Pushing myself
Least: Never get a day off
What chefs influenced you the most?
- My mother (Da Syhabout)
- David Kinch
- Ferran Adria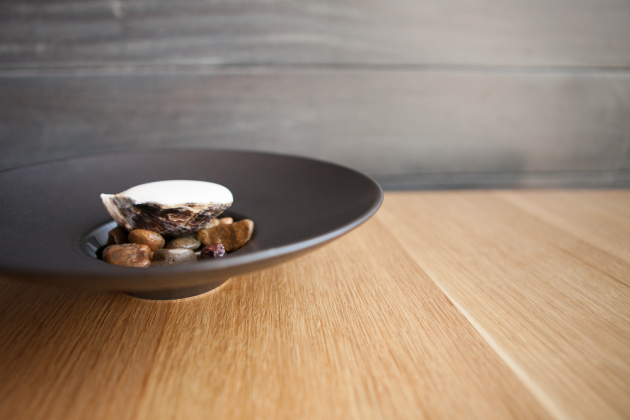 If you could keep only 3 culinary books, what would they be?
- On Food & Cooking
- El Bulli Vol. 2
- The Time Life Series (whole set)
If you weren't a chef what would you do?
Music producer
What culinary trends bug you/ and which trends do you like?

BUG: People doing things they think are "authentic" or people judging "authenticity". Stuff like this is very subjective to me.

LIKE: The naturalist movement, like what NOMA is doing. I also like chefs going back to their roots and cooking foods they grew up on, almost nostalgic.
What's your worst kitchen blunder?
I sliced my hand on a meat slicer once pretty bad because I did not use a guard. They still freak me out a little.
What's your most memorable dining experience?
Alain Ducasse, NYC 2004 with David Kinch. My first opulent dining experience with Steak Rossini style for two, pommes puree, whole roasted lobe of foie gras, etc…. Wow.
What food item do you hate to admit to liking?
Tater Tots
What three things are in your fridge right now?
Champagne, cured meats, lots of ice cream
What's your secret junk food indulgence?
Church's Fried Chicken
Which three people in history would you have liked to cook for?
Nelson Mandela, Bob Marley, my Grandma (never met her)