Chef Profiles - 2/11/2019
Roland Passot, La Folie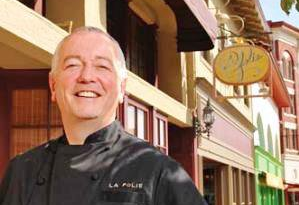 Legendary French Chef Roland Passot was gracious enough to buy a few moments from his busy day at La Folie in San Francisco to share his story of growing up in Lyon and cutting his teeth during the rise of nouvelle cuisine in its birthplace. There was not a dull moment in our two hour meeting. Enjoy!
What drew you to the industry and why become a Chef?
Well first and foremost I love to eat! I remember as a young boy growing up in Lyon, France I would come home from school and lift the lids on the pots in my mother's kitchen. I was a bit of a gourmand even at a young age as I had a mother who could cook and a grandmother who loved to feed me! I have fond memories of simple roasted chicken that came right off the farm and my favorite, tête de veau with sauce gribiche.
Growing up in Lyon, which was really the gastronomic capitol of France I chose to pursue a culinary career as I really had an interest in cooking, but cooking in your mother's kitchen and working in a professional kitchen 12-14 hours a day was quite a different thing! You also had the choice of taking an easier route or working in a kitchen that would really challenge you in every aspect and that's the route I chose.

My first big restaurant in Lyon was Le 3 Domes at the Sofitel. This was the time I worked in a classic kitchen brigade where each department had a full staff. I mean garde manger had six or seven people, the pastry department had seven or eight people and so on. It was a major operation and the Chef was Jean-Marc Alix who was one of the top chefs in France at the time (1970-71). It was a very disciplined kitchen and a well respected restaurant.

I had worked as an apprentice first in a small place in Provence called La Mirabeau, so it helped me transition as a commis into this highly structured kitchen in Lyon. I mean you just follow the rules, shut up and do your work or get your butt kicked, that's all.

It was the early 70's and because of my connections at Le 3 Domes I was able to land a position as a cook at Jean-Paul Lacombe's two Michelin starred Léon de Lyon. The establishment had belonged to Paul Lacombe who had just passed away and his son Jean-Paul took over the operation with his mother and sister. Jean-Paul was in his mid-twenties so this was a large undertaking for such a young man but because of his youth Jean-Paul now started to introduce some of the nouvelle preparations along with the traditional dishes, so there was a real sense of excitement for me because not only was I getting classical training but we were starting to delve into what was considered cutting edge for the time!

It's funny but to give you an idea of the Léon de Lyon kitchen, we still had ovens and stoves that ran on coal, and every morning we had to start the fires and keep them stoked all day, it was a real pain!

I was fortunate because being where I was at the time Chefs like Bocuse, Verge, Troisgros, Blanc, Guerard, and others were in their prime and were really making inroads with the nouvelle ideas, they really were the fathers of this cuisine and I was starting out right in the middle of it!

A turning point came when my chef from the Sofitel told me there was a chef in town by the name of Pierre Orsi who was opening a restaurant here in Lyon and that he just spent eight years in Chicago, and that I should go talk to him. I'm about 19 at the time, a shy kid, and Orsi talked to me like a son, heart to heart, and voila he hires me as his chef! I mean I'm not a chef but here I am a chef! So it was Pierre and his wife Juliette, myself and a brigade of about ten cooks. I had no idea why he was so taken with me but I learned so much and was thrilled to work under a chef who came from the 'new world', right? I mean I was exposed to wild rice for the first time and we even utilized a microwave for pulse 'poaching' fish - it was something new and exciting! I might add each era has things that are new and exciting. Now its molecular gastronomy and the hydrocolloids, which by the way big processed food companies have been using for decades. So regardless of the era you try to learn these new things and then stay true to who you are as far as your cooking philosophy is concerned while utilizing newly acquired techniques. It's about balance.

Now, how I got from Lyon to here is that Pierre Orsi's best friend was Chef Jean Banchet who opened Le Français in Wheeling IL, just outside of Chicago. I met him when he came to visit Pierre and he told me that he wanted me to come back with him to America and be a sous chef at La Français. This was 1976, my first time this far from home, I spoke no English but wow, this was America! I'm in downtown Chicago like a kid in a candy shop just mesmerized by the immensity of the city and the skyscrapers, the huge cars, everything was so big and me, I come to America and I'm making $250 a week? I had never made this kind of money in France, I thought I was a king!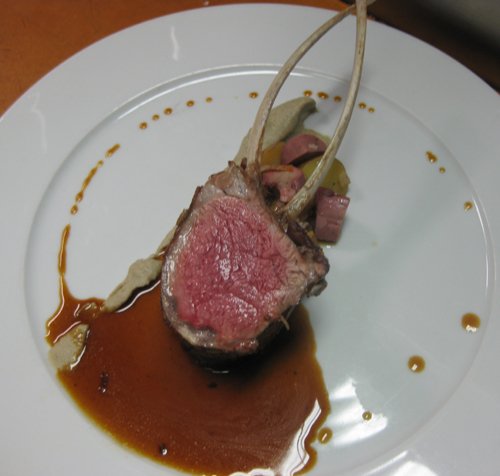 There were few Americans in the kitchen at Le Français mostly French, Mexicans, and one Japanese guy I think. But it was ironic that I knew Paul Bocuse, and I knew how he ran his kitchen – very tough, a lot of yelling, you know and I said to myself I'm never going to work for this guy and I end up under Banchet who turned out to be worse! Banchet and Le Français were the standard of French cuisine in Chicago and the pressure was tremendous. In 1976 we were flying almost everything in from France, it's not like today where you have great ingredients locally, so the amount of money spent was crazy. In addition to the workload and pressure Jean Banchet was a tyrant- screaming, abusive, I mean he constantly put the kitchen through an experience. So one day he threw a saddle of lamb coming out of the oven in my face and I just snapped and we had a big fight, after that he shook my hand and I became like the king in the kitchen, he never bothered me again! Crazy. I guess he was just pushing me to my limit, I don't know but I never had a problem with him from that point on, but now the kitchen staff was afraid of me! Unfortunately through all of this I became worse than my master, I actually learned to be a kitchen tyrant, I'll explain how that came back to haunt me in a bit.

It was 1979 and I decided I wanted a new job, and in France it was always by referral, you didn't leave one job unless you had another lined up. So I spoke to Jean Banchet and he connected me with the late Jean Bertranou at L'Ermitage in Los Angeles. Bertranou said the he needed me to start in October of that year and this allowed me about a month off to go back to Lyon and visit my family and then come back to L.A. Chef Bertranou was even going to be in Lyon at the same time and he said it would be good to have lunch together while there. Everything looked great. So back in Lyon we meet for lunch and he says to me so when are you going back to La Français? And I'm like, what? I'm not going back to La Français, I'm going to work for you at L'Ermitage! Well, he said, I don't have an opening right now. So I'm like freaking out - no job, running out of money and Bertranou tells me something totally different than what we had agreed upon!
He tells me anyhow go to L'Ermitage when I get to L.A. and see chef de cuisine Michel Blanchet. First I get on the phone to my friend Wolfgang Puck at Ma' Maison and tell him the story and he says 'come, come, we'll find you work'. So I get to L.A. and go see Blanchet and find out he and Bertanou had a big fight and were not speaking and Bertranou had me in his hip pocket in case Blanchet walked, well he didn't, they made up and my job was gone! Anyhow, Michel was gracious enough and was going to help me but it was actually Wolfgang who found me a sous chef position at a now defunct French restaurant in San Diego, it was a relatively nice place but coming from La Français it was a step down in quality and how things were run and I was very vocal about it so I did not last long. It's funny during this time I was taking my days off and going up to L.A. to Ma' Maison and hanging out and star gazing! I'd see actors like Jack Lemon and Orson Wells, and it was like wow real live movie stars!

My next stop was San Francisco where I took over the reigns of Le Castel in the early 1980's. We were the new kids on the block, and I revamped the menu toward more nouvelle cuisine and we were a hit! I was flying in fish from France and trying to get with other French chefs in town to get together and bring stuff in because there was really not a lot of resources at the time, besides game birds like squab, quail, poussin - these things were local in fact I think I was buying some of them from Bala (Preferred Meats CEO) when he was raising birds before he took over Preferred Meats. At the time my food cost was like 50% but who cares when you are 24 years old and an emerging superstar? This was my first job really as the executive chef and getting heavy press, the Chronicle, Newsweek, all the journals were talking about us, movie stars were flying in to dine with us - I was riding high and my ego was big - it was a party, but we weren't making any money! Well the restaurant sold and I did not want to conform to the new owner's ideas so I moved on.

This was 1981 and Jean Banchet called me and asked if I wanted to open the Adolphus Hotel with him in Dallas. I got there and had carte blanche, and a brigade of young cooks that had worked for chefs like Jacques Maximin in Nice. I was in my early twenties and Dallas embraced me, I was up on billboards, I was in magazines, double page spreads in the paper - I acted like no one could touch me. I'd make the owner of the hotel wait when he came in for dinner, I'd swear at the GM, break doors - I mean just terrible. Thanks to the abusive years under Banchet I learned to be a tyrant and I did it better than Banchet himself! Now, here's where the tide turns, one day I threw a roasting pan of bones at the food and beverages director and told him to lock himself in his office, he did. Next day I come in it seemed like everything was cool and at the end of the day I was escorted out of the hotel at gun point by security and promptly fired! I broke down, I cried, I knew I had to change but a turn around like this takes time, eh? The final blow is that I started a catering company that did pretty well and did this with the intentions of opening my own restaurant in Dallas and showing the Adolphus a thing or two! Well when I pursued this venture the architect told me that I would not succeed because I had made so many enemies that the restaurant would never happen. At this point I sold my shares in the catering business and moved out of Dallas, came back to San Francisco and took the Chef's position at Chez Michel, a little wiser and a bit more humble than when I left.

Chez Michel only lasted about a year after I got there and closed in 1987, we opened La Folie in 1988. My landlord owned a building where there was a little restaurant that was not doing well and wanted me to buy it, my wife and I had only $45,000.00 to our name and he said look, I will be your banker and you take it and we worked out the terms and opened our French restaurant on a shoe string. My wife is the one who named it La Folie which means "folly, madness, craziness" for being newlyweds and opening a restaurant with almost no money in San Francisco's competitive market and I did almost all the pre-opening work myself! That has been 22 years ago now, and we are still going strong!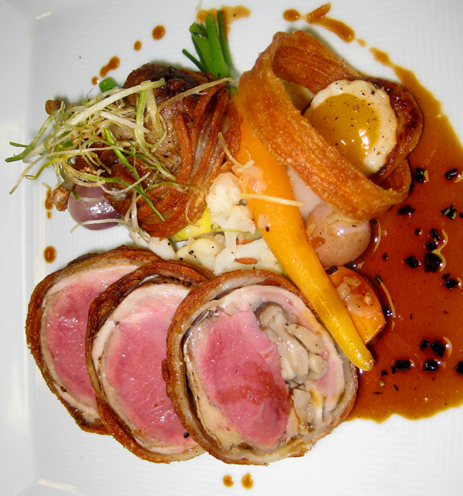 What are your culinary highlights?

- When I met Paul Bocuse while working at Leon de Lyon. I mean the man was a real figure right? And then later in my career he called me here at La Folie and said he was bringing some friends in for lunch. But Chef, I said we don't serve lunch. He said, what do you want me to bring food with me? I said very well Chef, come in, come in - well the friends he brought with him were Chefs George Blanc, Pic, and Troisgros. Wow, an honor for sure!
- Meeting and becoming good friends with Julia Childs. She dined at La Folie many times, really she was the mother of French cuisine in America. I asked her once what I needed to do to be healthy like her and she said just eat more butter and foie gras!
What do you like most/least about being the boss?
Most: Well, of course it's great to make your own decisions but you also have to bear the brunt of responsibility for those decisions. But really the ability to influence in a positive way those that work for you is special. For instance Richard Reddington started out in my kitchen years back and he went on to become a terrific chef and have an acclaimed restaurant of his own, it's a passing of the torch to the next generation and is a highlight for me.

Least: Besides paying the bills? I would say firing someone, but look sometimes it has to be done. If someone is affecting the peace of the kitchen or not doing their job the stability of the operation depends on someone making that call and a chef has to do these things at times. Although they need to be done it's never pleasant.
What chefs influenced you the most?
- Jean Banchet of course he is the one who brought me to America.
- Jacques Maximin a chef ahead of his time even though he has not received the prominence that others have, but the man is a genius when it comes to cuisine.
- Alain Ducasse he also came to America and succeeded and I think his food is real and has integrity, a great chef.
If you could keep only 3 culinary books, what would they be?
- Le grand Livre de Cuisine – Alain Ducass
- La Methode & La Technique – Jacques Pepin (great chef & good friend)
- French Feast – Stephane Reynaud
What culinary trends bug you/ and which trends do you like?

BUGS: I think trends themselves are not a bad thing but I don't like it when these trends start to become gimmicky. For instance the molecular gastronomy as they call it, some great tools and techniques have come out of this - but we use it where it makes sense to use it and not simply for the sake of using it. Although some of these things are cool, I like to keep my cuisine a little more truthful and natural. It bugs me when you see a trend reflected in a menu and little else. For example, sous-vide is great for certain applications, but if everything goes into a vacuum bag where there is no error because it's at a calculated temperature on an automatic timer it makes the process sterile to me and does not show the talent of cooking where the contrast of the little imperfections heightens the experience, like a slight caramelized char on a roasted bird highlights the succulence of the meat, these uncalculated things make the cooking real to me, it gives it a non-robotic human touch.

LIKE: I like the trend of sustainability and farm to table. This is a resilient planet yet fragile at the same time and I think we need to focus on doing things right with raising our food and supporting our farmers. We need to educate our children also on what real food is. I like the philosophy of going back to our roots.
What's your most memorable dining experience?
Eating in my parents garden as a kid back in France is a great memory. Then there was this place in Lorgues, Provence in the early 90's that Jacques Maximin recommended called Chez Bruno. This Chef is like 250/LB and 6'2"- big guy and Maximin, whom he calls 'Max' sent us and we were instant friends. He sat us at a table under a fig tree outdoors and proceeded to feed us - it was great, this commis comes by with a basket full of truffles and shaves them table-side. He offers three wines, white, red, rose and they all come from his friend's vineyards. The whole thing was only 50 Euros! The food was great but the experience was amazing as Bruno went from table to table suggesting, recommending, saying things like you are my guest and I will prepare this or that for you and I realized with total skill and hospitality he was pacing not only the execution in the kitchen but also what items were being sold as he was effortlessly directing guests in how they should order without them even knowing it. It was a perfect balancing act directing business yet you felt a human touch from the heart throughout!
What food item do you hate to admit to liking?
Peanut butter (I didn't at first but I do now).
What three things are in your fridge right now?
Cheese, saucisson, Champagne

What's your secret junk food indulgence?
In N' Out Burger