Chef Profiles - 1/21/2019
Scott Miller, Market Hall Foods
From an aimless teen to a successful, driven chef running some of the busiest high-end specialty food stores in the Bay Area, Chef Scott Miller's story is one of passion, focus and downright hard work. Chef Miller found his passion at his first job in the iconic Narsai David's kitchen and, nearly 30 years later, he's still at the forefront of culinary creativeness.
What was your food heritage growing up?
Cereal, Swanson Pot Pies, Pot Roast, Bazooka Bubble Gum, Winchell's Donuts, Baskin Robbins, McDonald's, Taco Bell, and Der Wienerschnitzel. No vegetable that I can remember, unless you count green M&Ms!
What drew you to the industry and why become a chef?
I was in my late teens and didn't have much direction in my life. My folks were heavily into politics and none of that interested me. I was just hanging out in Berkeley with zero ambition. At the time, my best friend was Narsai David's nephew. Of course, Narsai was not only a Bay Area legend, but a pioneer in the food world in general. In those days it was Chez Panisse and Narsai's. So, my buddy got me a dishwashing job working at Narsai's. The year was 1978.
After a few weeks washing pots, the chef at the time, Kurt Grasing, who now has Grasing's in Carmel, asked if I wanted to do prep. Why not? So I started prepping and I really liked it, honing knife skills and competing on production work with other cooks. Pretty quickly I found I finally had some direction in life! Then I was sent to work with the charcutière, who was Narsai's brother Jim. He taught me the skills of pâté, terrine, and sausage making before he moved on. After he left, I became the charcutière. I became really good at it – finally I was good at something!

I was at Narsai's from 1978 to 1981. I didn't realize it then, but I got a break at one of the most difficult places to work, yet one of the most groundbreaking establishments in the nation. Narsai was a tough guy – a perfectionist who could be very hard on people. When I gave notice he was very upset and angry. Before long we patched things up and I even catered the restaurant's 25th anniversary!

During my time at Narsai's I had been catering on the side for Rosevine. We worked with the Great Chefs of France program in the Napa Valley and catered a weekly lunch for the chefs and their students. There were the likes of Pepin, Verge, and Bocuse, the big guns, right!? At the time I was a clueless kid who barely knew who they were, I used to call Paul Bocuse, Pablo Cruz after one of my favorite bands. But in retrospect I mean just wow, we were cooking for legends!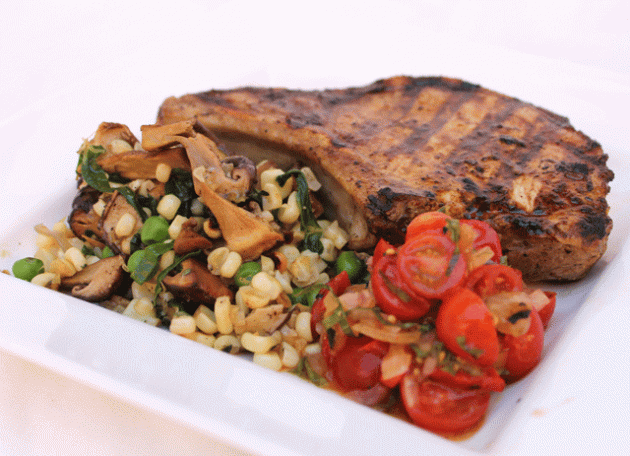 The catering chef of Rosevine was also the chef for The Pasta Shop, and she asked me to work for her, which is where I went after Narsai's. Two weeks later she left and I took over. It was a smaller version of what it is today but still had all the elements of the gourmet grocery and higher end take-out. I also kept making charcuterie on the side.

After some time at The Pasta Shop, I had some other incredible experiences learning from and cooking with the greats – I helped open China Moon with Barbara Tropp, and worked alongside Amaryll Schwertner, Jim Moffat, Marsha McBride and Kelsie Kerr at Premier Cru.

In 1987 when the Wilsons built Market Hall, they came and found me and asked me to come back to The Pasta Shop. I have been here ever since. I started with one dishwasher and me, and we now have more than 80 kitchen staff.
My job now as the executive chef of the operation involves the development of the cuisine, and also managing staff and planning for expansion. I also have a lot of great managers around me. I am given the freedom to make major decisions because we have been so successful and are consistently growing.

Market Hall was the only place of its kind when we started, and although now there are several similarly styled markets, we still have steady growth. One reason, I think, is because we offer many types of regional cuisines and we do them really well. People will come to us and say "wow, this is really good, just like I grew up eating". That means something. We really do our homework and we get feedback as we develop the recipes so the cuisine has depth.
I see my future as being here. I'm a lifer. I believe in relationships and loyalty and so I feel really good working for this dynamic company for the long term. They have been really good for me and I really love it here.

How would you define your style and how did you move from kitchen to operations management?
I prefer to create a team atmosphere, building others' skill levels, recognizing people's talents. I hold people to a high standard then strive to lead by example, as well as teaching respect through mutual respect. This also means always being open to input and ideas from my team. Although I have progressed with the growth of the company and my willingness to lead, I have not moved totally out of the kitchen. I still cook, too.
What do you like most/least about being the boss?
MOST: Feeling respected for our accomplishments
LEAST: Firing people
What industry people influenced you the most?
- Narsai David
- Barbara Tropp
- Jacques Pepin
If you could keep only three industry related books, what would they be?
Since our menus reflect food from all over the world I cannot narrow down to three but here are some of my favorite authors:
- Jacques Pepin
- Judy Rogers
- Paula Wolfert
- Diana Kennedy
- Rosetta Constantino
What are the culinary trends that bug you/ trends you like?
BUG: Loud restaurants
LIKE: Burgers

What's your worst blunder on the job?
I accidentally mixed in fish stock with chicken stock to make matzo ball soup.

What's your most memorable dining experience?
Da Delfina in Italy

What's a food item you hate to admit to liking?
Peanut butter stuffed pretzels
What three things are in your fridge right now?
Pickles, Greek yogurt, and bacon
What's your secret junk food indulgence?
Donuts and Diet Coke
Which three people in history would you have liked to cook for or dine with?
Mohammad Ali, Bruce Lee, and Michael Jordan