Chef Profiles - 4/14/2019
Taylor Boetticher, The Fatted Calf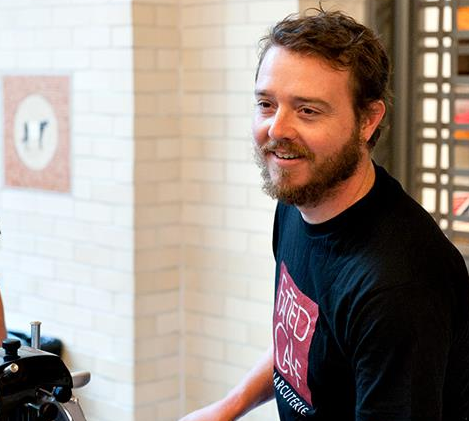 Taylor Boetticher came from a traditional family in Dallas, Texas with a stay at home mom who was a fantastic cook. He then took a non-traditional approach to his career choices that had ties to his love of food nurtured by his upbringing. From the kitchen of Stephan Pyles at Star Canyon in Dallas, to the Culinary Institute of America in Hyde Park, New York, to along with his wife Toponia, owning the highly regarded Fatted Calf in Napa and San Francisco. Taylor's story is one of vision and passion, plus a lot of hard work.
What was your food heritage growing up?
I grew up in a pretty traditional nuclear family in Dallas. My dad worked all day and my mother was a homemaker, really the unsung hero of the family. In retrospect, her job was not an easy one. I was fortunate in that my mom would make a great effort to have a well-prepared dinner on the table every night and we all sat down and ate together, me, my mom and dad, and my two siblings. Mind you this was not boxed Mac n' Cheese - I mean I probably ate my way through the Silver Palate Cookbook with my mom's cooking.
She'd make things like Salad Nicoise, and Beef Bourguignon, I mean really nice stuff for the family and not just for special occasions. It's funny that after I became a professional chef it became like well 'we can't cook for you anymore because you're a chef'. That's just crazy, I mean cooking for someone is one of the greatest acts of love and has nothing to do with critiquing something because I do it professionally. Anyhow, I grew up eating the classics. A lot of that has translated into how I approach food today.
What drew you to the industry and why become a Chef?
I've always liked food and had a good sensibility for it, so as I got closer to graduating from high school the idea of going to college to study for something that I really did not know where it would lead and spending a bunch of money in the process for that uncertainty just did not sit right with me. I graduated from high school in 1995 and decided to actually start working first before I decided whether to go to college or not. I got a job at Stephan Pyles' Star Canyon. I learned a ton from his executive chef and sous chef. Right off the bat, they asked me what my goals were in the industry and I said that I'd like to learn new skills and be creative, etc. Then the exec brought me down to earth right away and basically said this is a really hard job that takes stamina, the ability to accurately execute repetition for long periods of time while working long hours. It was a wakeup call to the reality of the industry that I am grateful for to this day.
I loved the camaraderie and at 18 you can take a pounding and get up and do it again the next day right? Plus Star Canyon had all the latest gadgets for the day including two wood-burning grills, it was just really a great place to learn and work. I was there for about a year and a half and worked throughout the kitchen and I thought, 'hey I can do this' and started to think about it as a career.
In early 1997 I started at the Culinary Institute of America in Hyde Park and that's where I met my wife, Toponia, and I really need to say she is one of the best natural cooks I've ever known, I mean she really 'gets' food. We ended up in the Bay Area for our externships and just fell in love with the area. I mean not just San Francisco but you go three hours in any direction and there is just great stuff all around - it's unparalleled.
I externed at the Fog City Diner. That was when I realized the differences in kitchens. At Star Canyon we were really upscale, had nine people on the line, it was a large kitchen. At Fog City there was a fraction of the number of cooks, a small kitchen and we cranked out 50% more covers than Star Canyon! That's really where I learned multi-tasking and consolidation. Well, having fallen in love with NorCal, when I went back to New York to finish the program, I came right back out here again in 1998 and I really liked Cindy Pawlcyn's style and vision so started working at Mustards in the Napa Valley.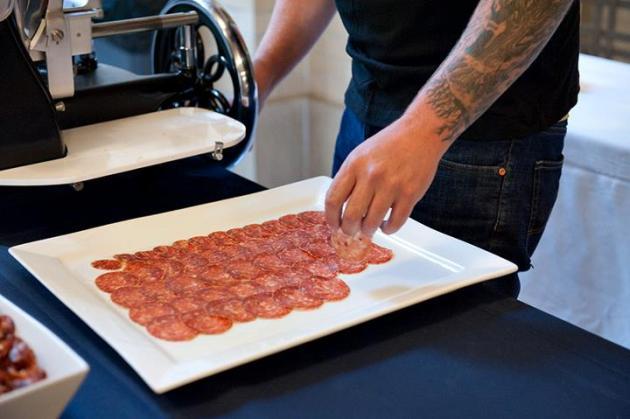 I was also working at Cosentino Winery during the day and then driving back to Berkeley where we lived after my shift at Mustards. Four to five hours of sleep and back up to do it again, I lasted about 8 months before burn out started to set in. I then went to Buck Eye in Mill Valley and did pastry. That was not a good fit. I really should not have been there, I was out of my element and I did not last long. I did not have the self-awareness at that point to say this was not a good match, I just thought suck it up and do it. I'm older and wiser now.
An industry head hunter, who knew I wanted to be somewhere like a Chez Panisse, that was a single establishment, and owner operated, placed me at Marsha McBride's Café Rouge in Berkeley. I did not realize there was a meat counter there along with the restaurant, and when I interviewed they told me they needed someone to run that counter. This was cool because I wanted to open myself up to other possibilities than working the line. That's why I worked at a winery, and why I misguidedly took a pastry chef position, is that I wanted to open up my possibilities and this was another step in that direction. I need to set myself up to strike my own course.
We roasted chickens, dry aged steaks, ground burgers, etc… and we ran the counter and catered to the public. This also allowed me to get instant feedback from customers; some still come into Fatted Calf today from relationships developed back there! I worked there from 1999-2001, then took a leave of absence to go on our honeymoon to Italy. That's when the idea for the Fatted Calf began to take shape. When we got back Marsha had kept a spot in the butcher shop open for me, which was amazingly generous and allowed me to start using some of the new techniques and recipes I'd learned on our long trip. By March 2003, Toponia and I were ready to strike out on our own. So eventually we rented space in a commissary kitchen with a friend and started to make our own charcuterie and selling it.

The idea of the Fatted Calf itself took place while in Europe. I'm not particularly religious but the biblical parable that Jesus gave of the prodigal son that went away and returned remorseful, coupled with his father's forgiveness and the slaughtering of the fatted calf for him, where they ate, drank, and enjoyed themselves because of his return, always resonated with me. It started out as a musing but we thought what better name? So we went with it. We opened in 2003 as a business but had no storefront yet. We worked out of a commissary in the Dog Patch south of AT&T Park in San Francisco, and did farmers markets, catering, etc. and still had part-time jobs to make ends meet. Then we decided we needed a face on this venture.
In 2007 we moved to oversee construction at our present Fatted Calf location in Napa, where the OxBow is now. We felt the only way to take this forward was to have a storefront where we could produce but also sell to the public at the same time. And being close to what became the public market here in Napa was a really good move for us. We thought we were going to open in mid-2007 but did not open until January 2008, all the while living up here and still working in the Bay Area. It stretched us a bit.
It was a change moving to Napa as you couldn't just go out and get like Ethiopian or Korean food, and things close early, but the more I'm here the more I like it. It has been a good fit for Toponia and I. It forced us to learn to adapt, as there are so many moving pieces. It was not easy for us for the first couple years but around 2010 things started to smooth out and we became established. You learn a lot from the process if you're fortunate enough to survive!
In 2010 we jumped on the opportunity to open Fatted Calf SF and we did. It is a smaller place and we don't have the same production capabilities, so it was a bit easier to get going. In 2011 we started working with a guy at Ten Speed publishing on producing a book. Two whole years of working on it for about 4 hours a day and sometimes more becomes consuming, but in 2013 "In The Charcuterie" was born! I still pinch myself, when I see copies of the book around and displayed in our shop, that the book exists, and that it has catalogued recipes and dishes that we are proud of. It is a testament to our team and the hard work by everyone to make Fatted Calf happen, and there it is documented in a book. Pretty cool! It's in its 4th printing. What I'm proud of is that each printing we can edit a few things - but they have all been minor (like typos) but every recipe in the book worked from day one - and would appeal to home cooks and professionals as well.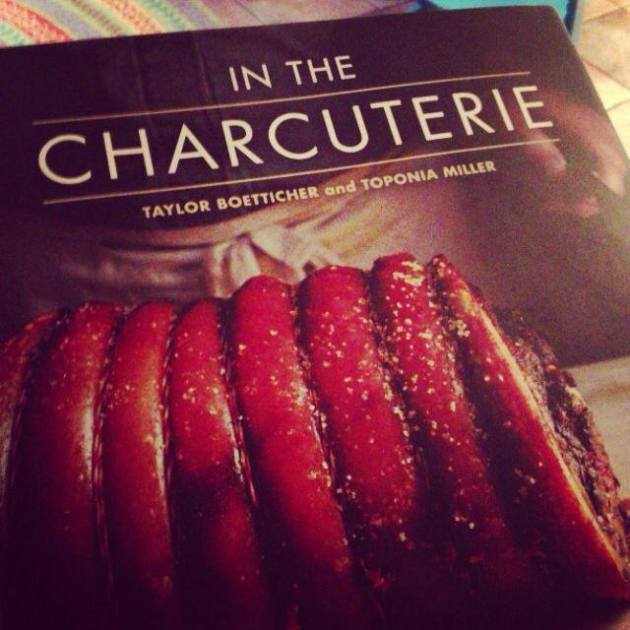 This whole journey has really highlighted to me the value of a good team. I have never been one to hunger for the spotlight. What I really appreciate is the people that I work with and that work for me - the input they give and the time it gives me, and Toponia, to be able to bring new exciting things to the table!
How would you define your style?
Classically rooted old school with the good sense to utilize all the amazing products and new techniques that are available.
What do you like most/least about being the boss?
MOST: Being able to teach people, and be the cheerleader to my crew.
LEAST: Being a babysitter. I hate managing petty squabbles between adults.
What chefs influenced you the most?
Jacques Pepin
Staffan Terge
Andrea Nguyen
If you could keep only 3 culinary books, what would they be?
La Technique
The Art of Simple Food
The River Cottage Meat Book
What would you do if you weren't a chef?
Chicken farmer
What culinary trends bug you/what trends do you like?
BUG: Making things too precious. If it takes more than one set of tweezers to plate a dish it had better blow me out of the water.
LIKE: I like seeing the lines getting blurred. People incorporating influences not necessarily inherent in the style of cooking they are doing, like the kung pao pastrami at Mission Chinese: Traditional? No. Delicious? Yes.
What's an ingredient that you're attached to?
Piment d'espelette
What's your worst kitchen blunder?
Adding fresh figs to a big batch of pork and fig crepinette. The enzymes in the fruit would not allow the proteins to bind and it would not come together. I made a huge batch of terrines out of it though. Good lesson.
What's your most memorable dining experience?
A chef I worked with at Star Canyon, named Mark Castle, opened this place in Dallas that was next to a pretty high energy club that the owners wanted to have a decent dining venue associated with it as well. Anyhow they opened early after the remodel and my wife and I went there when we were in town on a slow night. He destroyed us - an amazing dining experience!
What food item do you hate to admit to liking?
Chili Cheese Fritos and a Dr. Pepper (hey, I'm a Texas boy!)
What three things are in your fridge right now?
Kimchi, 6-year old Parmesan, four different kinds of anchovies.
What's your secret junk food indulgence?
In-N-Out Double Double, no tomatoes animal style.
Which three people in history would you have liked to cook for?
Ghengis Khan, Mark Twain, and W.C. Fields